Click on the image to open gallery.
---

Hamabul - The Flood
"Hamabul" (The Flood) is an artist book, a scroll, consisting of fourteen hand printed woodcuts on Japanese paper. The images are reflective interpretations of the biblical flood.
---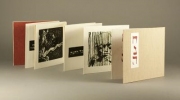 Sefer Hana
"Sefer Hana" is a limited edition accordion book of woodcuts,hand printed on Japanese paper, that is a feminist and personal retelling of the biblical narrative about Hana.