Click on the image to open gallery.
---

Hamabul - The Flood
Hamabul (The Flood) is an artist book, a scroll, consisting of fourteen hand printed woodcuts on Japanese paper. The images are reflective interpretations of the biblical flood.

In the biblical story of the flood, I wonder about the representation of water as the instrument of death. I can envision the devastation of the human and beastly bodies becoming one with the waters. I am compelled by this destruction, and by the implications of spiritual renewal.

Although the flood is brutal and deadly it utilizes the living sea as its medium of ruin. Water signifies purity and rebirth in the archetypes of literature and visual art. To journey through water takes one from the mundane to the holy and from the weakness of mortality to potency.
---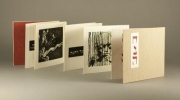 Sefer Hana
Sefer Hana is a limited edition accordion book of woodcuts,hand printed on Japanese paper, that is a feminist and personal retelling of the biblical narrative about Hana, Samuel's mother.

In Sefer Hana, Hana's experiences and emotions are expressed through images of fetuses. We all began here and, at times of despair and extreme vulnerability, return to our primal consciousness. The final image in the book merges birth and death into one figure, questioning the cycle - where do we begin and where do we end?